How to issue refunds for Stripe and Paypal transactions
Arie Vandenberg
How to efficiently manage refunds and limit application transactions.
There's no doubt that COVID-19 has put a strain on many Convention, Trade Show, Expo & Festival Organizers and the events they host. While some events are canceling altogether, others are postponing and rescheduling for late summer/early fall. Those events currently scheduled for late spring and early summer are steaming full speed ahead, choosing at this time to continue operations as planned.
Please listen to the experts and apply their recommendations (CDC, NIH, WHO, State, Local, etc.) to not only your organization, but for your family as well. Working together, hand in hand, we can overcome this as a community and become stronger than before. Thank you, all of you, for your patronage and for being awesome human beings. We are here for you.

This is a walk through of settings and refund processes which will help you deal with the process of disabling application payments, closing the forms to NEW applications and issuing refunds if it's required.
Issuing refunds made through Paypal and Stripe.
There is one big difference between Paypal & Stripe as far as refunds:
Stripe transactions can be refunded from WITHIN the system at RegisterONE > Payments > Reverse.
Paypal transactions are refunded from your Paypal Account > Transaction Page > Issue a Refund.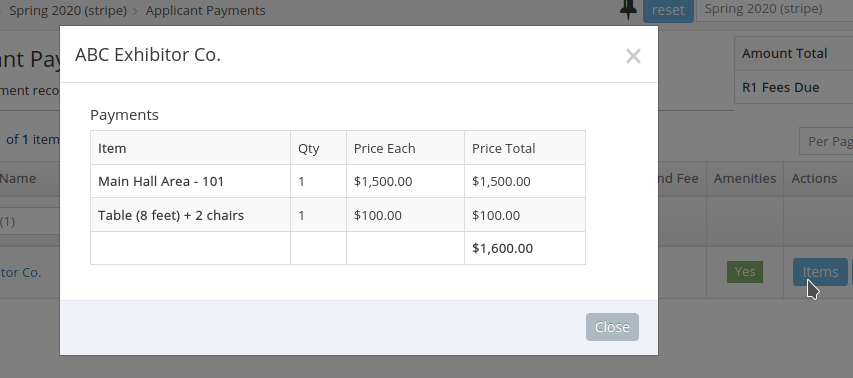 How to issue refunds from Stripe.
From the RegisterONE > Payments page, you can view all payments and refunds made through your account. To issue a partial or full refund, click the Reverse button.

When you click on the Reverse button, you will have two options, Selective Items or All Items.
Selective Items will allow you to issue a partial refund for a specific items. You can select the cart item and the qty to reverse. This will remove the selected item and issue a refund for only that items/amount.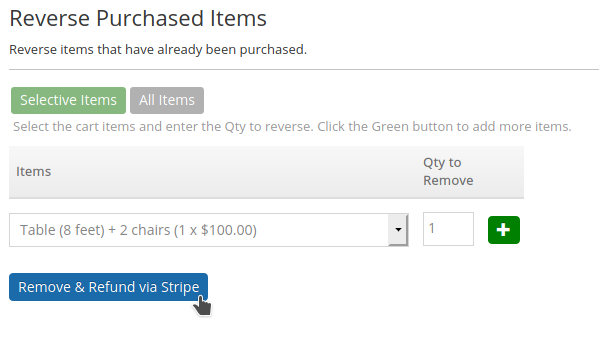 All Items allows you to quickly reverse and refund the entire order.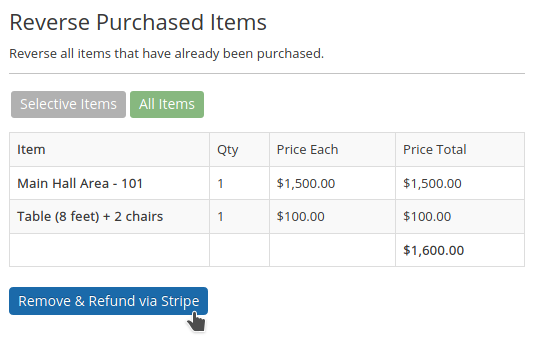 How to issue refunds from Paypal.
Paypal refunds are NOT initiated from within RegisterONE, but instead are issued from your own Paypal account. When you do, Paypal sends a notice to RegisterONE and the items are all reversed automatically.

The Refund button links directly to the Paypal Transaction page. You will need to login to your Paypal account if you have not done so already for this to work.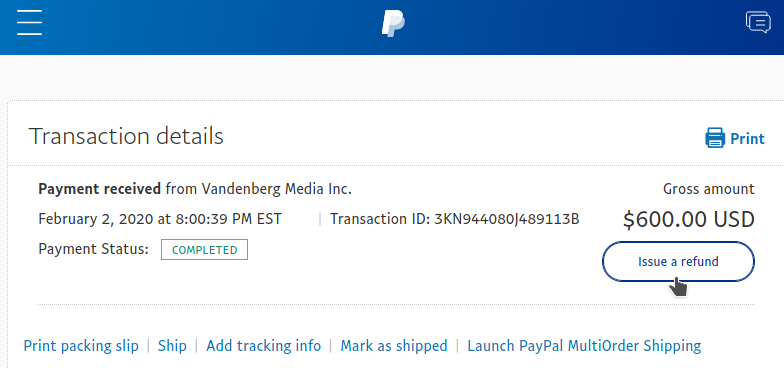 When you're on the Transaction detail screen, click Issue a Refund to initiate the refund. As previously stated, once the transaction is reversed, Paypal will then send RegisterONE a signal to automatically add the refund record and remove the amenity items.
Placing limits on new applications and payments.
How to prevent new applications:
If you want to disable NEW applications from being started, you would set the Form > Open Through date to whatever date is applicable (a past or future date).

NOTE: this will NOT prevent current/active application from being accessed. This will only prevent new application from being started.
How to disable payments from current applicants:
If you need to disable any payments for cart items for an event, navigate to Events > Settings > Options > Payment Options and set the Checkout Options to Disable.

We hope that this will help you manage your events in the event that you need to postpone or cancel your event.
Transaction Fees and Refunds
If you need to cancel, postpone or reschedule an event due to COVID-19 during this current crisis, we will, at our discretion, credit you for the $99 Event Launch Fee for each event to be applied to a future event. This only applies to currently launched events (2020 calendar year), restrictions and limitations apply. Example: if you make the decision to cancel/postpone/reschedule four events scheduled and launched on RegisterONE for 2020, we will waive four launch fees for the rest of year 2020 and into 2021.
PayPal AND Stripe DO NOT ISSUE REFUNDS FOR TRANSACTION PROCESSING FEES.
RegisterONE DOES NOT ISSUE REFUNDS FOR PLATFORM SERVICE FEES INCURRED ON CANCELLED, POSTPONED OR RESCHEDULED EVENTS.