How to change exhibitor booth locations.
When an exhibitor selects and pays for a booth or other amenities, sometimes they want to change booth locations based on a new requirement, to size up or compete with another exhibiting company near by. For example, this could be going from a 10′ x 10′ to a 10′ x 20′ booth area.
First thing is do NOT remove the existing booth reservation and create a new one. There's a much easier way.
RegisterONE allows you to simply swap their booth from one booth designation to another without having to worry about removing old cart item, issuing refunds and making a lot of manual adjustments.
Steps to swap booth reservations
If the exhibitor booth location has been selected (either paid or unpaid), the booth can be moved to another by either going to Booth Stats or clicking on View Reservations from the application detail screen to view the booth reservation. Then, all you need to do is click the Select/Switch Area button and select the new booth. This will remove the old area and assign the new one under the same reservation record.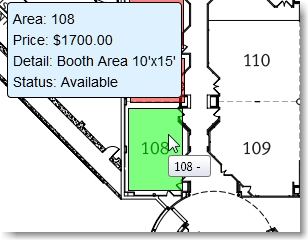 How to switch booths when you're using Split-Payments (50% due now/ 50% due later)
What if an exhibitor has paid 50% of the booth fee (with 50% balance due) and then decides they want to switch? No problem. Go through the same procedure outlined above and it'll automatically adjust what is owed based on the new price of the booth.
Accounting for the balance due when the new booth has a higher price.
In this example, the old booth had a cost of $1,500 and the new booth has a cost of $1.700.00, making a shortfall of $200. When the booth has been paid for, RegisterONE will recognize the shortfall and add a new line-item to the cart and invoice called "Balance Due". This is a catchall line-item that is automatically calculated based on what is due vs. what has been paid.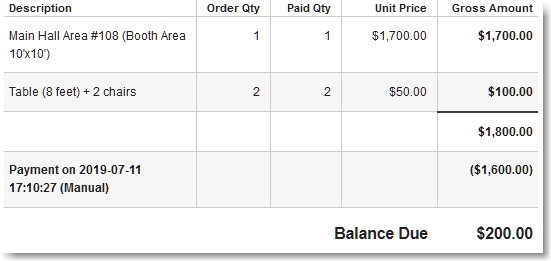 This makes it easy to swap out items and still bill exhibitors the correct amount, and it even works with split payments.