WP Plugin v1.1.7 – Authorize.net support & Multi-Event Registration added
Arie Vandenberg
WP Plugin v1.1.7
Multi-Event Registration added
Now you can ask your exhibitors if they would like to attend future events past the current one they are applying to. When they select future events, the are added to the selected events within R1. You will be able to see them in the Applicants list for the future events, take partial payments for them, etc. This allows you to quickly see the future roster of exhibitors or vendors for the entire year and enables you plan better.
An example: You have events A,B,C,D. You setup all 4 events in R1. The form for event A asks them which others they would like to attend (B,C,D). If they select B & C, they will be added as applicants in R1 for B & C. Then you can accept deposits from them for B & C to lock in their spots for the year.

Authorize.net support
R1 now supports two payments providers, Paypal and Authorize.net. Just go to Settings > Payment Options and click the Authorize.net button at the top and add your API credentials. Once this is done, the secure credit card form will be displayed on the cart page.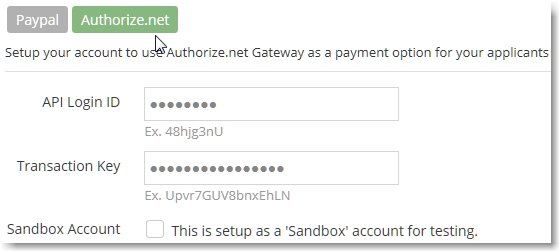 ---
WordPress Plugin v1.1.7 updates:
New: Authorize.net Gateway as a payment method to cart page.
New: Amenity type to allow applicant to apply to multiple application forms from one form.
Added location registration of hosted forms for better tracking.
UX: Improved controls for Amenity selection process.
UX: Added support for global CSS overrides.
UX: Added null amenity flag for "no value" items.